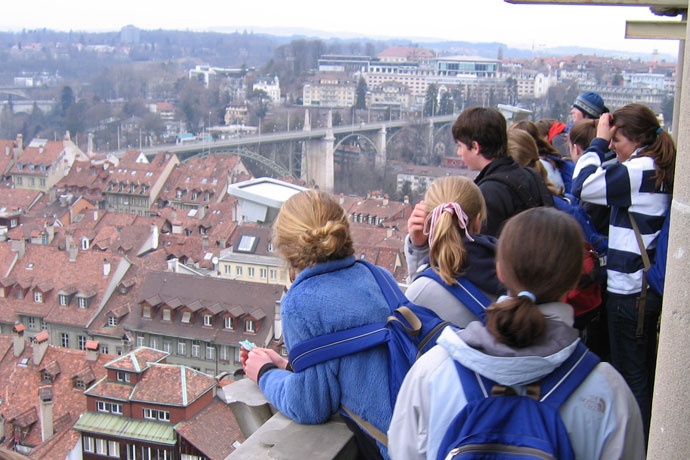 Information | What They Say
What They Say
"We are still talking about how we found our daughter in her home away from home. In a word, she just seemed happy! Thank you so much for your crew of teachers and staff that have contributed greatly to her success in your program."
- Parents '09, TN
"Let me take this time to say a big heartfelt thank you on my part for all you and the WT team did to make J.'s past three months at the Chalet truly inspiring. He was a great guy when we sent him in January and he is an even better young adult now. He still readily talks about his experiences and feelings of being part of your wonderful school. And we love to hear about it all."
- Parent '09, International
"Thanks a lot for the experience J. had. She thoroughly enjoyed it, learnt a lot, grew in confidence, and will treasure it for the rest of her life. Please convey our thanks to all the others involved in Winter Term. We hope that J. will stay in touch with lots of her new friends, and that one day we might produce another Winter Termer!"
- Parents '09, South Africa
"E. had such a wonderful time at The Winter Term. We are thrilled
she could participate with such an energetic and fun group of young people. I want to thank you and the entire staff for making this an
extraordinarily wonderful experience for our daughter."
-Parent '09, IL
"Thank you from the bottom of our hearts. Our daughter is thriving, enjoying all aspects of her life and becoming more worldly. Thank you for all your kindness and efforts."
- Parents '09, CA
"We wanted to touch base and say thank you to you and the entire Winter Term staff for everything you have done for our daughter. Clearly it was an amazing experience for her. Not only has she returned as a more mature and confident individual, but she has also gained friends and memories that will last her lifetime. As parents, it is exhilarating to hear her speak with such enthusiasm and pride about her time in Switzerland. We are convinced that you have developed a magic formula for what is such a difficult, yet formative time in a young person's life. Certainly we are not aware of a better opportunity to promote personal growth and development than the Winter Term experience! We are thrilled and again thank you for everything."
- Parents WT '08, MA
"Thank you for your time, effort, and energy for our daughter during the Winter Term. She returned full of confidence and very happy.... She recently said, 'I wish school were like the Winter Term. I loved learning at WT!'
- Parent '07, Virginia
"The Winter Term has been a fabulous experience not only for J. but has also opened our eyes incredibly!"
- Parent '07, Bermuda
"Thank you for all that you and the staff did for E. these past three months. It is amazing that such a relatively short time in a person's life can have such a major impact. [The program] seems to have it all figured out...."
- Parent '07, New Hampshire
"The benefits from [our daughter's] time spent at Winter Term are evident in so many ways: academics, confidence in herself and her ability to achieve greater goals in life, to list a few. She was voted captain of her school team and is giving a speech on the year's theme, 'Lead The Way'. We can't thank you and the staff at the Winter Term enough for all you did to enrich N.'s life."
- Parent '07, Virginia
"Dear Mr. and Mrs. Harvey, My flight arrived safely and I'm now at home. I would like to thank you for the amazing time I had at Winter Term and tell you what an awesome and life-changing experience it was. Thank you so much, and tell your boys I say hi. "
- Student '07, Massachusetts
"Your email brought tears to my eyes as did the first one telling us that she was safely with you at Chalet Hohliebi. I want to ... express our overwhelming gratitude to you and all the staff for all you have done. The glimpses we've gotten of [our daughter's] expanded horizons have been exciting. She's learned European and Swiss history from an '02 Princeton grad who recently completed a tour as a US Army Captain in Iraq and was herself a Winter Termer 13 years ago. The program integrated fun and learrning through well planned trips to interesting historical sites and apprenticeships with local businesses. As for S.'s appreciation for foreign languages, she told me emphatically that when she has children she plans on their becoming fluent in other languages by the time they are five."
- Parent '07, Tennessee
"We cannot thank The Winter Term enough. C. had a fabulous experience, and even though her injury may have slowed her down somewhat, it sure didn't dampen her spirit! This is by far the best experience she's ever had, and we hope that with her influence and enthusiasm you will see more students from here."
- Parent '07, Colorado
"Thank you for looking after our little girl. It is been a growing experience for us all!"
- Parent '07, Virginia
"T. is home!!!!! He's fabulous and feels that the last three months were all a wonderful dream."
- Parent '07, Illinois
"I can't tell you how excited I was to see my daughter again! She has matured so much in your program. She now realizes she does have academic strengths, the ability to make great friends when thrown into new settings, and to be thankful for the opportunity she's just taken. Thank you for sending back a stronger individual with the brimming confidence of a young lady. We can't wait to send our son."
- Parent '07, Virginia
"Thanks for taking such great care of our kids! Ours is already giving us expert lessons in 'How We Did It at WT'!"
- Parent '07, Pennsylvania
"I wanted to thank you for everything you have done for me over the past three months. The Winter Term changed my life in so many different ways: socially, academically, physically, and mentally. I will always remember the Chalet and all the Harvey boys running around. I can't thank you enough for everything you have done for me."
- Student '07, Wyoming
"[Our son] has gone on to be #1 in his 9th grade class and is demonstrating leadership skills to the school [that] ARE A DIRECT RESULT of WT. We are so incredibly thankful to you for your love of our children and for your program."
- Parent '06, Virginia
"I just wanted to thank you for your hospitality when we came to Lenk... it was such a treat to see Chalet Hohliebi, meet your incredible staff, see the Farmhouse, and just soak in the setting... It's definitely difficult to do justice to your program without seeing it. I was so completely impressed and overwhelmed at how the students take responsibility!"
- Parent '04, Tennessee
"Will write with more details later, but I don't want to send this email off without letting you know what a wonderful, life altering experience Winter Term appears to have been for L. She was challenged on so many fronts and, having succeeded (as it sounds like all Winter Termers do), she seems to be readyto take on the world. No parent could ask for more!"
- Parent '03, Washington, D.C.
"We are still baking in the warmth that E. exuded on her return from Switzerland. She had a fabulous time and we are so grateful to you for creating a community where the children thrive and blossom and from which they take friiendships, values and memories that (to judge by the experience of E's older sister) last and last."
- Parent '02, N.H.
"M. returned to us a much-matured young lady. She accepts and deals with responsibility , and she interacts with her parents very often and very openly. She is no longer the couch potato we sent to Switzerland. We could not be more pleased or appreciative."
- Parent '01, Tennesee
"We believe The Winter Term to have been a high point in our girls' educations. It is a fantastic experience, a first class operation, with superb teachers and excellent opportunities for growth and independence. We wouldn't trade it for the world, and I know the girls wouldn't either."
- Parents '01, Massachusetts
"Yours is an excellent program which we are promoting to all we encounter. For these young people to have such an intense living and academic experience in a controlled and nurturing environment provides a tonic for them all as you no doubt witness every year. Thank you for accepting N. into the program, for teaching her and for caring for and about her for those wonderful three months."
- Parent '99, North Carolina
"The Winter Term was the mosty influential time of my life and will most definitely remain so. During my time spent at Chalet Hohliebi, I grew as an individual and was able to use that experience to discover my true self over the last three years following my departure from Switzerland. I guess what I am trying to say is thank you for the experience you gave me because without it I would never have learned to fly on my own."
-A.M. '98 Pennsylvania
"One thing J. kept saying while she was with you was 'I never knew I could work this hard.' She loved that and misses it... You gave her a splendid three months in every way imaginable."
- Parent '94, Maine
" The Winter Term has changed the way I look at people, problems, challenges, fears and new opportunities. Without it, I may have lived my life a little more blind. I don't know how I can even begin to thank you."
- M.M. '96, Minnesota
"I believe everyone here at The Winter Term became a better person and I enjoyed watching and feeling that change."
- N.C. '98, Connecticut."
"I felt so secure in an environment where I was assured respect. When I spoke, I knew no one would make fun of me. Nothing makes someone happier than being able to trust everyone and having them be able to trust you. I loved all the people at The Winter Term and I speak for everyone when I say it was the best three months of my life."
- T.F., '00, Washington, D.C.
"A. had a wonderful three months with you - I'm amazed at the deep friendships she seems to have made. She has settled into her old routine without missing a beat, and is pleased that she's way ahead of her Spanish and math classes."
- Parent '98, N.H
"M. absolutely accomplished more in three months at Winter Term than in a full year at (his present school). He is applying himself with much more maturity, discipline and follow through which you all helped to instill and reinforce."
- Parent '95, Pennsylvania
"I am in awe of the magic you create at WT. I feel challenged to respect and protect A's new found feelings of competence and independence. You have opened his eyes to the world and reinforced the values we have tried so hard to teach him.... I have sorely missed him but have also observed his budding wings. You have taught him how to fly."
- Parent '97, New Hampshire
"As I am asked now by colleges to write an essay on the most significant experience in my life, my three months in Switzerland definitely stands out and I thank you for that experience."
- L.F. '90, Florida
"My final observation is a comparison between The Winter Term and my schooling back home. The outcome is obvious, The Winter Term is better. It was more fun, a better education, better environment for both life and making friends, and taught me how to work more efficiently. Overall, I loved Switzerland and The Winter Term and will never, ever forget it."
- R.S. '98, Pennsylvania
"I always try to fathom my life without having gone to WT (ten years ago) and it is impossible. My experience there has influenced me tremendously."
- D.S. '92, New Hampshire
" It was the greatest lifetime experience I have ever had - it will stay in my heart always."
- E.W. '91, Pennsylvania